Football shirt collecting has boomed in recent years. The growth of Classic Football Shirts and the raft of passionate social media content creators, such as The Kitsman, has really increased interest. When people had more time in lockdown too, they soon started to look around for other hobbies and collecting shirts all of a sudden became something to pass time.
While we didn't have a lot of money growing up, my football shirt collection started at the age of about eight. My favourite was this classic Celtic away shirt, which I actually ruined in an accident where I fell down the stairs and bust my chin open, blood everywhere!
Since growing up, I've generally sought to buy football shirts from places I've visited, which has become a bit easier these days, or simply ones that I like.
Some people have various methods of collecting. Fans will collect just shirts of their own team, for instance. Given the ridiculous amount of kits released these days, it wouldn't take long to build up tens of shirts for even one team!
It got me thinking about types of shirt collecting.
Your name on the back
This is probably my favourite idea and a good way of getting a random collection of shirts. I decided to start looking out for players with my surname, Gordon, and then getting a shirt from their team. It just so happened that I was keen to get a Preston North End shirt, as I went to university there, and they had Anthony Gordon from Everton on loan there. I'm not sure how many shirts PNE sold with Gordon printed on the back, but it was at least one.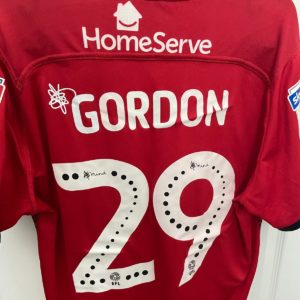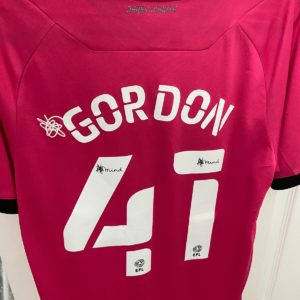 I added to that with a few gameworn shirts via eBay – striker Josh Gordon from Walsall and then Kaide Gordon's Derby shirt, worn during a loan spell from Liverpool.
Josh has been on the move again, though I haven't yet got a shirt from his new club. One that has eluded me so far is Partick Thistle, who had Shea Gordon in their ranks.
These are very much for collection purposes only – I wouldn't ever wear them, which perhaps defeats the object.
Places you've visited
 

View this post on Instagram

 
My main category of collection is getting shirts from places I go to on holiday. I've sometimes found it hard to find the shirts while on holiday, but have then managed to get hold of them online.
The pandemic didn't help with this section of my collection! But in 2022, I was able to add Roma, Lazio and Palermo shirts to my shirt rail.
Other favourites include Toulouse, Atletico Mineiro and Gremio.
The team you support
In terms of football, this one has passed me by a little bit. I was a casual Manchester United fan as a child, and had a few shirts, but supporting rugby league was more my thing. Adulthood has seen me fall in love with non-league football, so I have a few shirts of my local team, but nothing more.
However, I've seen some terrific collections of people who collect every shirt their team releases. I sort of wish I'd kept the shirts I used to buy of my rugby team, as I'd have a good 20 odd years worth of most home and away by now.
Alas, that addiction to selling things on eBay a decade ago has come back to bite me.
National teams
Seen someone on Twitter a while back who was trying to get a shirt from every FIFA playing nation! What a challenge that is.
I've had a few international shirts over the years. My favourite has to be a 2010 World Cup Netherlands shirt, which I had customised with Van Der Vaart 23 on the back. Rafa was one of my favourite players of that era.
Plenty of England kits have been and gone over the years, including one in fact I had my own name on the back, and the only other I recall having is a Portugal away shirt. My son has actually now got the full Portugal kit – the Ronaldo effect.
Novelty shirts
A few random ones in my collection include FC Brickstand, which is a fictional Lego team that produced replica shirts and sold them a few years ago. I've also got a few Melchester Rovers shirts, which were produced as part of Roy of the Rovers' modern day return. They're just a bit different.
Random impulse buys
There are now so many outlets selling shirts that sometimes it's hard not to get tempted. Plenty of the lads I play football with have the same issue. M&M Direct is one site that is often selling decent shirts for decent prizes, and sometimes shirts that aren't particularly common either. I've certainly got a few South American shirts I wouldn't otherwise have had.
To be honest, I wish they'd done it a bit sooner, because I paid a fortune importing some shirts from Brazil shortly after going there for the 2014 World Cup!
What other different "categories" of shirt collecting are there? What shirts do you collect? Let me know in the comments below!